Guaranteed Visitors
Learn about Guaranteed Visitors
What are Guaranteed Visitors?
"Guaranteed Visitors" program has been designed to draw a quality traffic to your business: people who have cash and incentive to stick around for awhile.
Real people
We lead real unique people to your business, and they will stay in your office for as long as you want and examine everything you sell or offer.
Exhaustive statistics
You will have access to statistics, including the names of visitors. Moreover, you will be able to track the activity of every visitor: where each visitor goes and spends time in your store.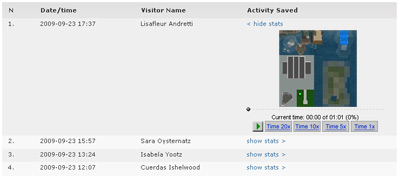 Who are these visitors
We are running a very popular Second Life money-making program called Earn2Life.com. We offer our members to visit your business.
Visitors who really have money
Thousands of residents earning money with us every day by doing in-world and web jobs. They do have money.
Interests
Our members earn money in Second Life, and willing to entertain in SL. They are looking for all aspects of entertainment, clothes and skins, adult stuff and games. They do love free stuff, too.

What we guarantee
We state the following:
1. You get the real unique people
2. You won't see any bots visiting your land
3. Every visitor will stay as long as you order
HUD Device
All members who participate in "Guaranteed Visitors" program use a special HUD device to fetch offers and withdraw earnings.
This device monitors the visitor's activity and won't allow them to get out of your parcel or leave PC.

Visitor uniqueness
Alongside the HUD device, we strictly control all our members' activity and block duplicate accounts.
Our software 100% guarantees that nobody can use two or more accounts to complete the same offer.
Fox Hunt game
"Fox Hunt" game is a game which entertain your visitors, and exposes the most interesting points of your parcel at the same time.
To enable the game, place several "Foxes" wherever you want in your parcel. Each visitor have to locate Foxes to complete the visit.
What visitors say

"This is amazing! It's very interesting to hunt for foxes and discover the hidden locations of the parcel."
"Fox hunt to have fun and discover the places with other people."
If you allow people to have fun on your parcel you get the loyal visitors!
What advertisers say
"It's really useful feature as I can forward visitors to examine the WHOLE parcel, and it's huge."
"I've sold more items I would like to sell as visitors had to look directly on my special offer sign!"

Proven fact: Fox Hunt game increases sales up to several times more, especially if you have items at affordable price.
Free to try: Try Guaranteed Visitors and Fox Hunt for free!
Prices
Basically, you pay L$5 - L$10 for each visitor.
The price depends mostly on the amount of time you want your visitors to stay at your parcel. You can order up to 30 minutes visits.
Discounts and bonuses
The more visitors you order, the less price you get (while the minimal order amount is L$250, 25 visitors).
Free to try!

You can try Guaranteed Visitors free of charge. We provide a free package to test that Guaranteed Visitors suit your needs.
How to order
To place an order, login to your SL Business Directory account.
Create account
If you have no account yet, click here to register for free.
Testimonials
These testimonials have been posted by customers who use this service: