Information
SL Business Directory: A Better Way to Advertise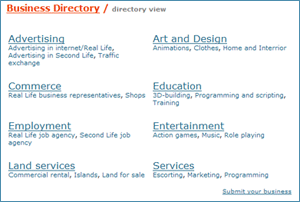 Click here to open SL Business Directory
Marketing and advertising is just as important to your Second Life business as it is to any real life business. We offer several ways to promote your business, from Ad Fusion billboards and banners to our unique programs, "Guaranteed visitors", "Picks Booster" program.
Read about our advertising services by clicking the menu links at the left.
List Your Business with the Best
The original mission of SL Business Directory was to provide a prominent place where business could publish information about products and services. Today the SL Business Directory is the largest listing of Second Life businesses that represent the entire spectrum of industries. Our directory is much more than just a collection of business links. We provide a suite of marketing tools for business owners that are all geared toward one goal: obtaining a greater number of sales transactions for your business.
Listing your business at SL Business Directory is free, and will always remain free, including:
uploading your business logo and images (or in-world screenshots) of your business
keyword support to precisely target your business in the results listing of business searches and keyword clouds
enabling directory visitors to contact you without exposing your private contact information
Joining the SL Business Directory
Join SL Business Directory for free right now and list your business within directory.