SLPano URL and 3D View
SLPano project information
About SLPano
About
SLPano is an SLUrl replacement which exposes SL location to web visitors without launching SL viewer:
Location name, description, web links
Screenshots and images
Interactive 3D View of your location in-world
How does the SLPano URL look like?
SLPano URL looks like this: http://slpano.com/secondlife/Business_Name
You choose a name to take, the URL free and life-long.
Is it similar to SLUrl?
Yes, it works in the same way, but allows you to expose much more info to your visitors. You can use SLPano URL while advertising your SL business using web banners (at XStreetSL, SLUniverse or wherever else).
Usage and benefits
The main purpose of SLPano is to allow webvisitors to view your location information without launching SL viewer.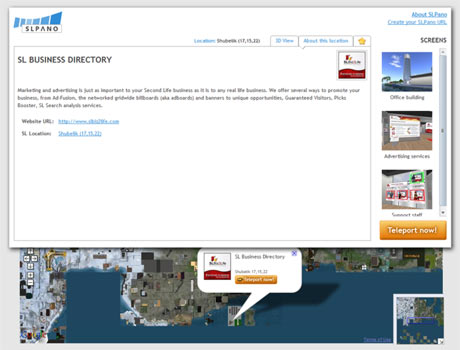 Use with web banners
If you advertise your SL location with web banners, you can use SLUrl. The disadvantage is that SLUrl doesn't give any useful info to the visitor except of the location name.
With SLPano URL, you can provide as much information as you need:
Location name and description
Links to your XStreetSL page and website
Images of your goods
Screenshots of your in-world location
Interactive 3D View of your location in-world (read the next topic)
Easy, 100% FREE and life-long!
Creating SLPano URL is completely free. Uploading and updating all the info is also free!
SLPano 3D View
SLPano 3D View is the unique feature which allows web users to see your SL location without launching an SL viewer!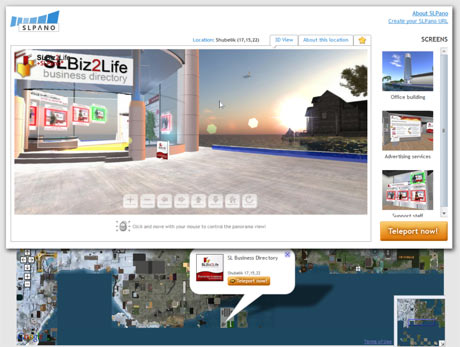 Our photographer will create a 3D View for the location you specify: just put an order in your SLBiz2Life account.
Use 3D View at your website
After creating a 3D view, you can put it on your website, blog or wherever you want.
Complex 3D Views
3D View can consist of several locations linked together: check the examples section.
Examples
The following SLPano URLs has been created by SLBiz2Life members.
Simple SLPano URLs
These SLPano URLs contain location information and images:

(click the business logo to open)
SLPano URLs with 3D View
These SLPano URLs contain 3D View, as well as text information and links:

(click the business logo to open)
SLPano 3D View with multiple locations
This SLPano URLs contains a multi-location 3D View. To change locations, click on the building entrances:
How to create SLPano URL
To create your SLPano URL, create business owner account with SL Business Directory and register your business. It's 100% free.
After listing your business, click the "SLPano URL" link and specify the URL name you would like to get.
Create account
Click here to create business owner account!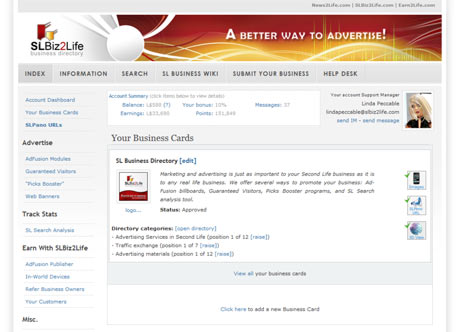 Testimonials
These testimonials have been posted by customers who use this service:
Roy Philbin, "Second Commerce Business Park" owner, wrote:

We are a virtual worlds business solutions provider, working with RL companies and institutions. Among our projects are a virtual business park called "Second Commerce" and "Dresden Gallery".