"SL Search Analysis" Tool
"SL Search Analysis" tool
About "SL Search Analysis"
We offer an advanced method to track the business positions in Second Life Search: not only your one, but also their competitor's business positions.
Stay informed!
You specify the keywords, per business, to search for. Tool determines the position of each business, by searching these keywords daily and saves the position history for you.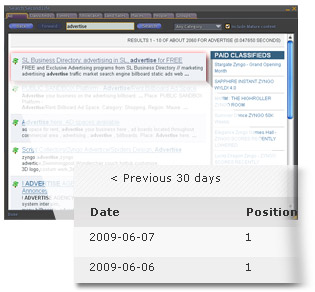 Statistics
You will get the daily positions of your business saved. The example screenshots are shown below.
Graph stats
You can get the daily positions stats as a graph: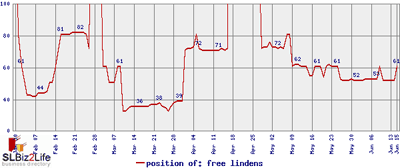 Table day-by-day stats
Or as a text table showing the positions and daily position change:
Prices
The analyze service price is as low as L$999 (it includes a setup fee).
Prolongation
The price to prolong an existing order is only L$599 per month.
How to order
To place an order, login to your SL Business Directory account.
Create account
If you have no account yet, click here to register for free.
Testimonials
These testimonials have been posted by customers who use this service: